TRAX
2025 Chevy Trax: A Comprehensive Look At The Upcoming Compact SUV
2025 Chevy Trax
The 2025 Chevy Trax makes a big entrance into the compact SUV market with a redesigned model, expected to offer more space, enhanced safety features, and an attractive design.
As Chevy's new entry-level model, the Trax is expected to deliver a combination of affordability, performance, and style that will appeal to many buyers.
2025 Chevy Trax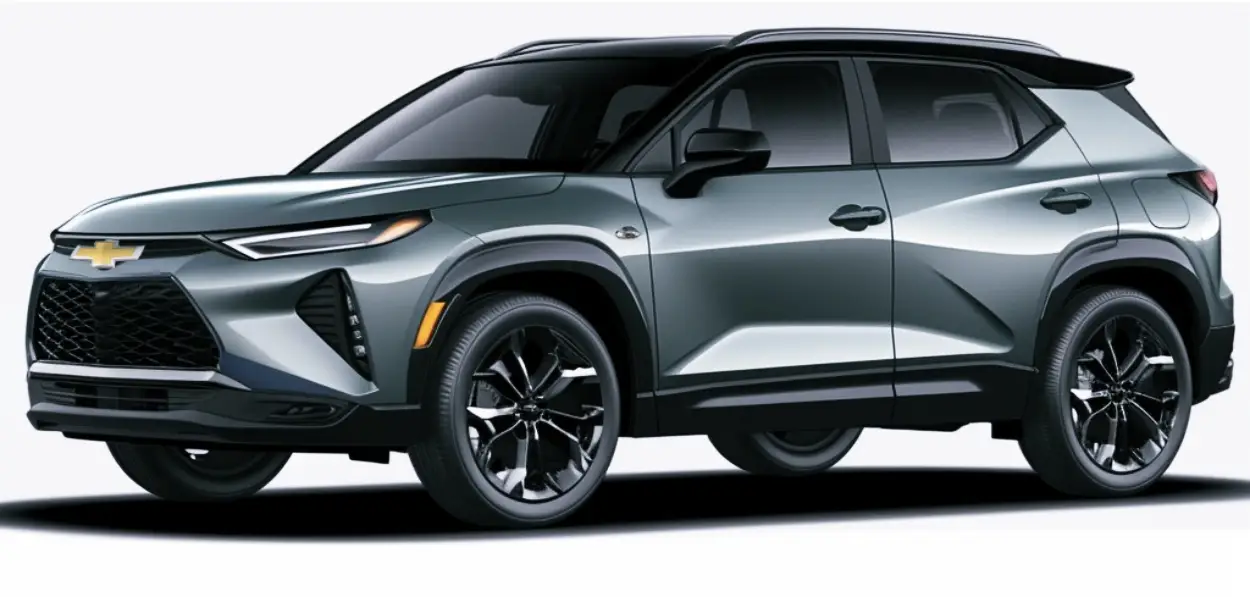 In this article, we'll look at what the 2025 Chevy Trax is expected to offer, from its design and interior to its engine, fuel economy, safety features, and more.
The 2025 Chevy Trax offers a bold and refined design, taking inspiration from the mid-size Blazer and smaller Trailblazer models.
With a longer wheelbase than its predecessor, the new Trax offers increased rear legroom and cargo capacity, making it a more practical choice for families and adventure seekers.
The exterior features sleek lines and modern styling, ensuring that the Trax will turn its head wherever it goes.
2025 Chevy Trax Interior
Inside the 2025 Chevy Trax, drivers and passengers will be greeted by a completely redesigned interior that prioritizes comfort and functionality.
The driver-facing infotainment screen and climate control are neatly placed, while the cabin is built from high-quality materials that are durable and visually appealing.
With additional rear legroom and increased cargo space, the Trax is well-equipped to handle the needs of today's busy families.
Features
The 2025 Chevy Trax has standard and available features designed to enhance the driving experience. Some of these features include:
– 10 airbags
– Rear Vision Camera
– Chevrolet Infotainment 3 system with a 7-inch diagonal color touchscreen
– ECOTEC® 1.4L turbocharged engine
– Apple CarPlay and Android Auto wireless compatibility
– 11-inch diagonal display screen available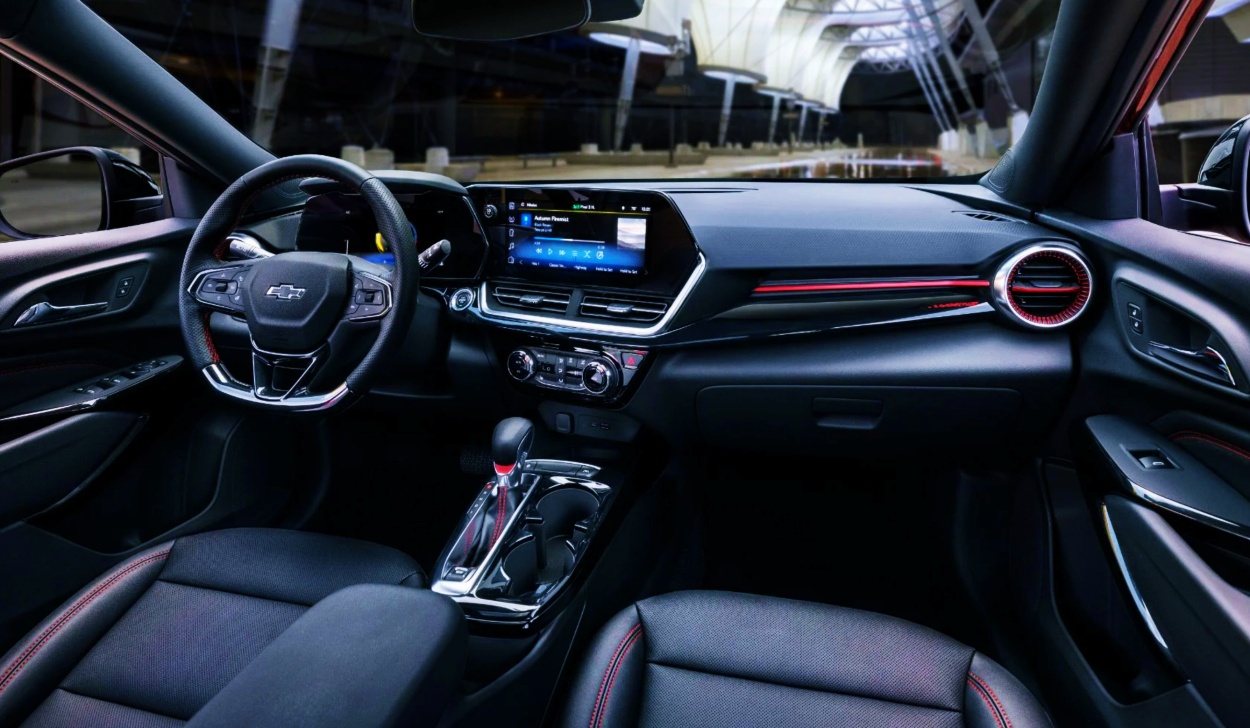 Chevy Trax Exterior
The exterior of the 2025 Chevy Trax is stylish and functional, with an attractive design and aerodynamics.
The Trax is available in various colors and trim levels, allowing buyers to customize their vehicle to suit their personal tastes and preferences.
Engine
Under the hood, the 2025 Chevy Trax is powered by a 137-hp 1.2-liter turbocharged three-cylinder engine paired with a six-speed automatic transmission.
This powertrain, borrowed from the Trailblazer, delivers a balance of performance and fuel efficiency that will impress drivers.
Fuel Economy
While official EPA ratings for the 2025 Chevy Trax have yet to be released, the vehicle's expected to deliver competitive fuel economy figures, thanks in part to its efficient engine and lightweight construction.
For reference, the front-drive Trailblazer with the same powertrain is rated 29 mpg in the city and 33 mpg on the highway.
Safety
Safety is a top priority for the 2025 Chevy Trax, which comes standard with the Chevy Safety Assist driver assistance suite.
This includes automatic emergency braking with pedestrian detection, lane departure warning, and lane-keeping assistance.
Additional safety features include adaptive cruise control, rear cross-traffic warnings, and lane change warnings with side blind zone warnings.
2025 Chevy Trax Price
The price for the 2025 Chevy Trax will depend on several factors, including its features, powertrain options, and competition.
The current starting price for the 2021 Chevy Trax is around $22,000, so we might expect the 2025 model to be priced similarly, with some possible upgrades due to new features and updated technology.
People Also Ask:
Q: Are Chevy Trax good cars?
A: The Chevy Trax is a subcompact crossover SUV that has received generally positive reviews. Its compact size and fuel efficiency makes it an excellent option for city driving, while its spacious interior and comfortable ride make it a good choice for longer trips.
Q: Are Chevy Trax reliable?
A: The Chevy Trax has a solid reputation for reliability. According to the J.D. Power 2021 U.S. Vehicle Dependability Study, the Trax received an above-average rating for dependability in its segment.
Q: Are Chevy Trax all-wheel drives?
A: The Chevy Trax is available with all-wheel drive as an option. This can improve traction and handling in adverse weather conditions.
Q: Are Chevy Trax good in snow?
A: The Chevy Trax can perform well in snowy conditions, especially with all-wheel drive. Its compact size also makes it easier to maneuver in tight spaces.
Q: Are Chevy Trax good in winter?
A: The Chevy Trax can handle well in winter weather, thanks to its available all-wheel drive and standard safety features like traction control and stability control.
Q: Are Chevy Trax good on gas?
A: The Chevy Trax is known for its fuel efficiency. Its EPA-estimated fuel economy is around 28 mpg for front-wheel drive models and 26 mpg for all-wheel drive models.
Q: Are Chevy Trax 4-wheel drives?
A: The Chevy Trax is available with all-wheel drive but does not have a 4-wheel drive system.
Q: Can Chevy Trax tow?
A: The Chevy Trax is not designed for towing heavy loads. Its maximum towing capacity is around 1,000 pounds when properly equipped.
Q: Can Chevy Trax be flat towed?
A: According to the owner's manual, the Chevy Trax is not designed to be flat towed.
Q: Can a Chevy Trax pull a trailer?
A: The Chevy Trax can tow a small trailer or boat, but its towing capacity is limited to around 1,000 pounds.
Q: Do Chevy Trax have a lot of problems?
A: The Chevy Trax has had some reported transmission and engine performance issues. However, these issues are not common and have not affected many vehicles.
Q: Do Chevy Trax have heated seats?
A: Heated front seats are available on higher trims of the Chevy Trax.
Q: Do Chevy Trax have sunroofs?
A: A sunroof is not a standard feature on the Chevy Trax, but it is available as an option on some trims.